Fix Pack – Universal dry ridge system to 450mm wide ridge tiles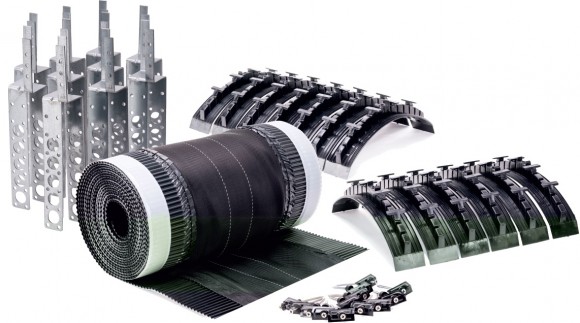 Product specification
Universal fixing system of ridge tiles is easy to install and secure. It has dedicated quality components to meet high standards.
The solution contains following elements:
6  meters x 310 mm ventilated RidgeClimatic roll
10 x batten support brackets
13 x metal clamping plates
13 x 100 mm fixing screws and waterstripping washers
13 x ridge unions
FIX PACK can be used with both half round and angled ridges.
It is suitable for new and refurbished roofs  (15 to 45 degrees) and eliminates the need for mortar.
Secures the ridge of the roof, preventing wind uplift problems.
Provides the ridge resistance to water and appropriate ventilation into the roof space.
Resistant to atmospheric conditions and UV radiation.
Two strips of adhesieve butyl allow easy installation.
To secure or to fix use galvanised or stainless steel nails / staples.
Recommended temperature of fixing – above 5 °C.
Recommended temperature of storing – not exceeding 35 °C.
When using adhesive strips, the surface of the tile/slate should be clean, dry and free of dust and grease.
The screws should be finished off with a screwdriver to make sure clamping plates are tightly secured.
Refers to:
BS 5534:2014 Code of Practice: Slating and tiling for pitched roofs and vertical cladding
BS 5250:2011 Code of practice: Control of condensation in buildings.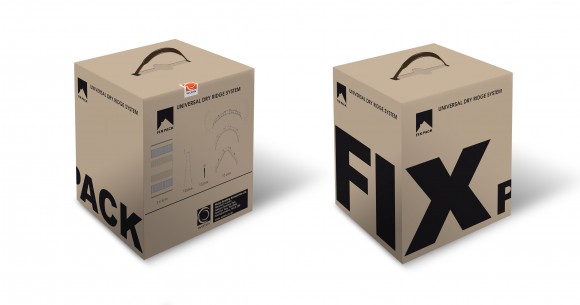 Other products in the category
Ridge Accessories and Fixings